by Edward Crane, My Assistance Dog Inc.
Each year during the first full week of August, International Assistance Dog Week (IADW) is celebrated around the world. It is a time we celebrate the contributions of all assistance dogs around the world and educate everyone to their importance in our lives. This year, it will be from: Sunday, August 6th, thru Saturday, August 12th, 2017.
The goals of IADW are to: recognize and honor assistance dogs, raise awareness and educate the public about assistance dogs, honor puppy raisers and trainers and recognize heroic deeds performed by assistance dogs in our communities.
IADW was established due to the efforts of Marcie Davis, a paraplegic for over 35 years and CEO of Davis Innovation, a consulting firm based in Santa Fe, NM. Davis is the author of: "Working Like Dogs: The Service Dog Guidebook", and she is the host of the podcast radio program "Working Like Dogs" at www.petliferadio.com.
During IADW, I make my own personal effort to recognize and honor all the hard work and devotion that assistance dogs provide to help individuals, like myself, mitigate their disability-related limitations.
I am an individual who is dealing with epilepsy, diabetes and a physical disability and life can be truly challenging, yet I have truly benefited for the past fifteen years from two specially trained dogs that restored a level of normalcy in my life.
Each year, in preparation IADW, I write a letter to the Governors in all fifty (50) states, seeking a proclamation be issued for International Assistance Dog Week. The goal is for each state to recognize and honor the amazing work that our assistance dog's do for us each and every day.
Unfortunately, most states require the request for the proclamation to come from a resident of that state and that has presented a problem for us. We do have contacts in some states, but not all, and we need help!!!
Respectfully, we are seeking the help of individuals in most states, to be our co-sponsor in our effort to receive the proclamation from the Governor for IADW. If you would like to help, simply send an email to me: Edward Crane at [email protected].
The work that these wonderful dogs like Alepo do for individuals with disabilities like me deserves proper recognition, and we are honored to provide it for them.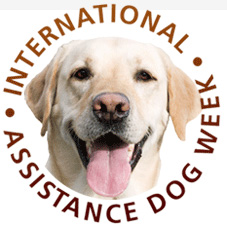 International Assistance Dog Week
www.assistancedogweek.org
Canine Partners for Life
k94life.org
My Assistance Dog Inc.
www.myassistancedoginc.org
About Edward Crane, Alepo, and Canine Partners for Life
My current assistance dog, named Alepo from Canine Partners for Life (CPL) in Cochranville, PA, senses my seizures before I can even feel them, and provides me an advanced warning, by rubbing his head on my knees, advising me to lay down, so I don't fall and injure myself when the seizure actually occurs.
I also am susceptible to losing balance without warning and falling, and possibly injuring myself. Yet Alepo wears a harness on his back, with a handle that I always hold on to, very tight. This prevents me from falling and injuring myself.
Each dog at CPL receives training adapted to meet the specific needs of its human partner. Skills may include how to retrieve items; operate light switches, elevator buttons, door openers; tug a laundry basket and put laundry in/out of the machine; roll someone over in bed to prevent sores; pay cashiers; open and close doors; assist with dressing and undressing; help an unsteady walker negotiate bumpy terrain or stairs; and a wide variety of other tasks. Just as important, the dogs provide a constant source of love and comfort.