Home of the Working Like Dogs Podcast!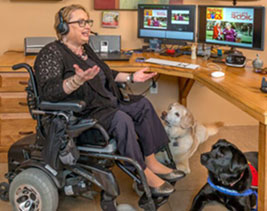 Our podcasts cover a wide range of topics and are chock full of great service dog information. In each episode, guests talk about dogs—their work with them, books they've written, ways to keep dogs healthy, how to train a service dog, and more. We've talked about all kinds of dogs that help people, including military working dogs, herding dogs, assistance dogs, search and rescue dogs, pet therapy dogs and more.
Working Like Dogs guests have included animal advocates such as Betty White, Dr. Marty Becker from Good Morning America, as well as American Humane Association CEO, Dr. Robin Ganzert.
The Working Like Dogs shows are hosted by Marcie Davis and her service dog Lovey. Guests on the show to date have included dog trainers, puppy-raisers, veterinarians, the leader of a K-9 correctional team, celebrity animal advocates, authors, and family members living with a service dog team.
Where to Go? – The Smartphone App for Working Dogs
Click the pic to get our smartphone app for working dogs and their owners.
We're working on an update to "Where To Go?"!  Join our mailing list and we'll let you know when it's available, along with other news and information about assistance dog life.
---
Support International Assistance Dog Week by buying supplies (25% off with code IADW2017) at Kurgo.
Support International Assistance Dog Week by buying gifts at our Cafe Press store. 
3 Things You Need to Know About Getting An Assistance Dog.