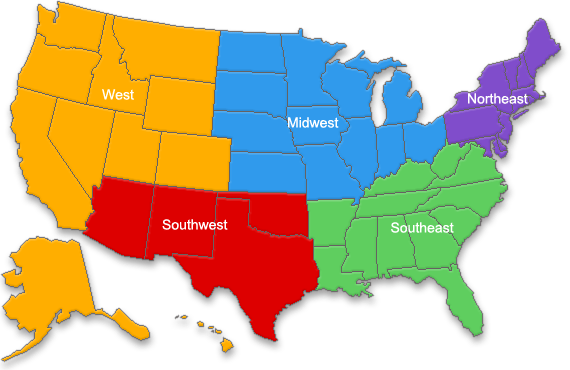 Northeast | Southeast | Midwest | Southwest | West | Outside US
Assistance Dogs International (ADI) establishes standards for the assistance dog industry that dogs are treated humanely, clients are treated with respect and dignity, and training is delivered in a professional way at all times.
Please click on any region of the map below to find Assistance Dogs International (ADI) certified assistance dog programs and their contact information throughout the United States. For international information, please visit ADI's website http://www.assistancedogsinternational.org/members/programs-search/.
Please Note: Working Like Dogs (WLD) currently does not provide information for assistance dog organizations that are not certified members of ADI. WLD does not endorse, approve or recommend these sources, and omissions do not in any way indicate bias on the part of WLD. This list is supplied solely as a resource for the reader to investigate and is not intended to be exhaustive nor all-inclusive. Agencies, organizations and suppliers change and form on a continual basis. Please use this list as a starting place for your own research.